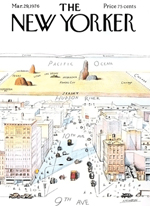 Recently, someone asked me, "so just how big is Burgundy, say, compared to Manhattan?" Excellent question! Herewith, some of the world's wine regions and their whole or fractional Manhattan equivalents:
Manhattan is the smallest of the five boroughs of New York City at 14,478 acres (22.6 sq. mi.; all sources appear after the jump.)
* Romanee-Conti (DRC) vineyard: 4.4 acres, about half of Bryant Park
* Burgundy: 70,470 acres or about five Manhattans
* Champagne: 86,500 acres or about six Manhattans
* Bordeaux: 300,000 acres or about 21 Manhattans
* Barossa (Australia): 13,256 acres planted or about Manhattan minus Inwood
* Napa (California): 44,000 acres planted, or about three Manhattans
* Mendoza (Argentina): 360,972 acres or about 25 Manhattans
* Maipo (Chile): 30,000 acres or about two Manhattans (or, the Bronx)
* Languedoc-Rousillon (France): 528,000 acres or about 37 Manhattans
All vineyard sources are from the Oxford Companion to Wine, Third Edition with the exception of Barossa which was
here
. The Burgundy figure includes Chablis, the Maconnais, and the Cote Chalonnaise; sadly, no quick acreage was available on the Cote D'Or (or Barolo) so feel free to add it in the comments. The Manhattan acres came from: Manhattan: Long, Luman H.(ed). The World Almanac and Book of Facts: 1967. New York, NY: Newspaper Enterprise Association, Inc., 1966: 305.